....Salad Bowl "Trio Planter"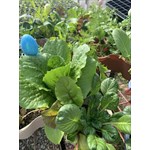 Category: Fruit & Produce
A lovely trio pot of fresh, seasonal greens including a variety of lettuce, kales and mesclun. Makes a wonderful gift for anyone on your list and lasts much longer than flowers. These trio pots would be inside pots this time of year. They are very easy to care for, simply requiring just water and sun light.
All you need to do is clip the greens, eat them and repeat. Purchase 2 to stack and make it a double!
Tags
Local
Available At These Locations
KelRae Farm - Thursday
|
KelRae Farm LFPA WHOM (Private)
|
Kelrae Farm LFPA GCOC (Private)
|
KelRae Farm LFPA PGOC (Private)
Purchase
1 % VA Food Sales Tax