Terra di Siena
Traditionally made Tuscan meats, made locally in Virginia!

Terra di Siena is a family business in Tuscany (Italy), from generations.
Since he was a child Filippo Gambassi, the fifth generation of the Gambassi family, learned from his father Giulio the secrets of this art and still now he works to keep this knowledge intact with full respect and dedication in order to preserve the artisan tradition of Terra di Siena using the same method of producing cured meats both in Italy and in the States.

Americans frequently come into my Italian shops and ask, "How can we get your products in the United States?" My answer is not to export our products, but to produce our Italian cured meats in the US with the true perfume and taste of this family traditional story.
That's how the dream began and how the Terra di Siena USA Project started.

So, why in Virginia? Virginia, a birthplace of American culture, is similar to Tuscany in several ways. Viginians, like Tuscans, appreciate quality, natural products, and the respect for tradition. Both regions are similar in microclimates and landscape to create organically grown products, which is very important for our health.

Filippo Gambassi has developed a production warehouse in Virginia that complies with USDA sanitary standards, but follows the original meat making process based only on simple organic ingredients and slow natural aging.
The Perfect Charcuterie Board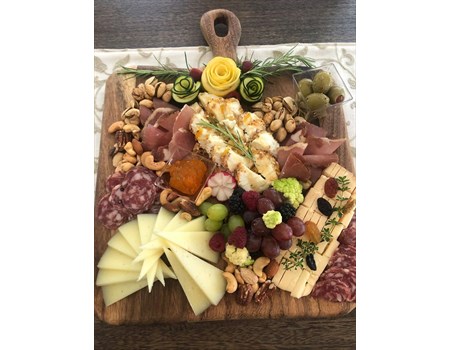 Order some of our cured meats to make a jaw-dropping summer charcuterie board! Between our salamis, prosciutto, capocollo, and lonzino, you're sure to find the perfect meats for your display. They go wonderfully with any cheeses, crackers, fruits, or vegetables. Check out how Lil Mama Big Cheese uses our products on her beautiful board!
How to Use our Porchetta
One of my favorite ways to use our porchetta is in a simple sandwich! Once it's thinly sliced, it goes wonderfully on ciabatta bread with any toppings of your choosing. My personal toppings include arugula, aioli, and provolone cheese.